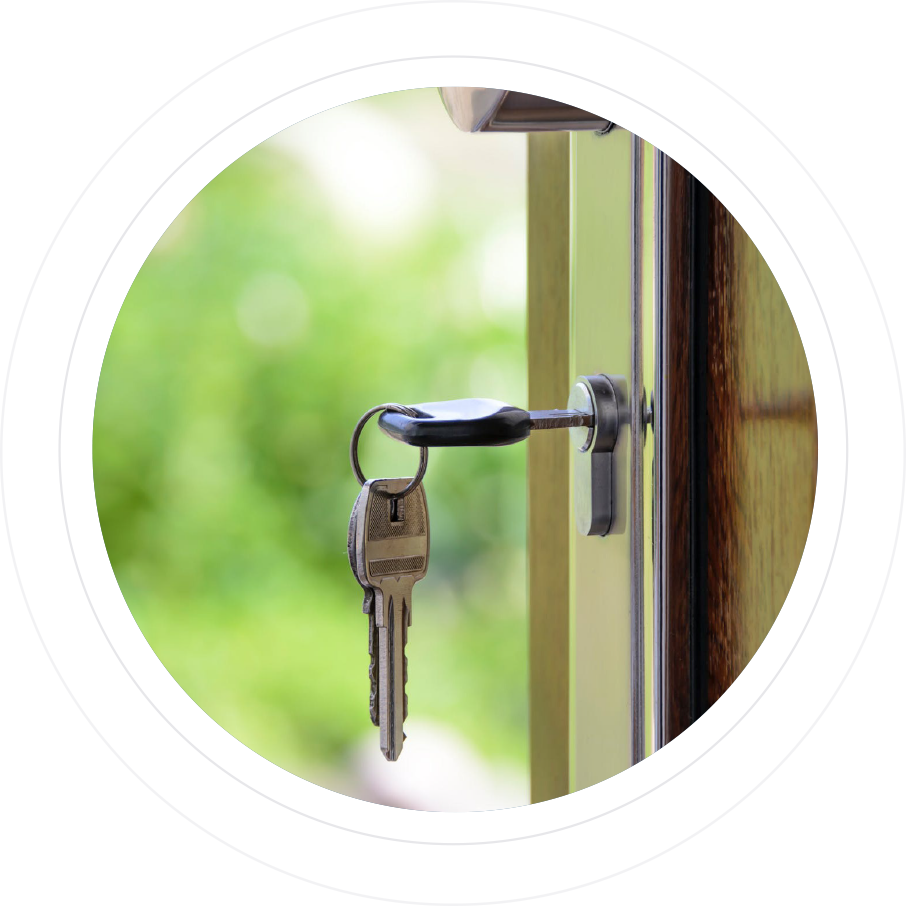 Mortgage Questions?
We are Florida home loan experts! Please let us know if you have questions.
Contact Us
Fast and easy application process!
Begin your home loan process today. Our mortgage advisors are standing by.
Request a free personalized rate quote.

Justin young was amazing throughout the entire process. Being that this was our first home purchase, I had loads of questions. Some I felt silly asking as I felt it should of been basic knowledge. Justin was quick to answer my questions and assured me that my questions weren't silly. He was professional, knowledgeable and friendly. I would recommend Justin to anyone looking to buy a house. He made this experience painless and quick.
Rhiannon G

I had the pleasure of working with Justin and he was nothing short of amazing. He remained in constant contact with me throughout the entire process and was always eager to address any questions I had. We were also able to close in just a few weeks! It was a smooth experience and a pleasure to do business together.
Rance Ely

Had justin help me out on my mortgage. Absolutely awesome, I have a weird schedule so called at late times and still helped me out no matter what. Helped me through the whole process and gave me tips for lower rate. Best lender I have talked to. 10/10
Robert C

One of the BEST brokers I have worked with! Goes above and beyond for the customer and is quick to communicate!! He cares about every detail from start to finish and it shows. I cannot say enough good things about them.
Victoria V

Justin was honest, straight forward and helpful throughout the entire process.
Jaidin O'Donnell

Justin Young and his team were great! Always available and even went above and beyond and got us our pre-approval letter on a weekend! Loved the online submission process, seemed so streamlined and easy. Would definitely recommend!
Amber Bair

Justin Young was incredible. For a nervous first time home buyer he had the answer to every question and gave me an amazing deal on my first home. He'll even assist you after the sale! Great experienced, responsive service. Thanks!!
Nathan Evans

We had a great experience with Justin Young from start to finish. He went above and beyond throughout the entire process!
Brian Boswell

Justin was great to work with! I'd been working with a different lender through our entire home-buying process, but ended up reaching out to Justin with just over 2 weeks till closing day. Justin made the process simple, was always quick to respond to a text, or pick up the phone when I called. In the end, he saved us a ton of money in closing costs and got us a much better rate! I would recommend Justin to anyone buying a house! ...Did I mention we saved a ton of money in closing costs?? No exaggeration, we were able to fully furnish our new house with money we'd set aside for the other lender's closing costs!! Thank you, Justin!! You made it easy!
Scott Bickler

We recently had a great experience working with Justin to secure mortgage financing. It was really refreshing working with him because he was professional and responsive throughout the process. Additionally, Justin was able to help us secure a much better loan; he saved us a great deal of money. If you are in the market for a home loan I strongly recommend that you connect with Justin. I am so glad that we did.
Ernie Jones

Justin Young is PHENOMENAL. Highly responsive, knowledgeable, very helpful...and kind and funny and just altogether a great guy! He and his team got us closed in 30 days! Incredible! I would not only recommend him to anyone looking for a mortgage lender, but we will absolutely go back to Justin if we ever refinance or buy again. You won't regret having Justin help you close!
Jessica Valliere

I had the privilege of working with Justin Young. He made sure I was able to close before 30 days. He made the whole house buying process during the Pandemic easy. I was always able to get hold of Justin for any questions. He made a stressful situation less stressful. I would recommend Anyone that is buying a house to use Justin Young
Alicia Miller

Justin Young ROCKS!!! First time home buyer here! Me and my husband had no clue what we were doing or where to start. We've been saving and waiting for the perfect time to house shop. We did a lot of online searching and ended up starting at Quicken Loans which seemed like a decent option. But after talking with our realtor (Dunia Taylor with Remi Realty), she wanted us to give Justin Young a call and just talk about what he could offer. We had found our dream home and wanted it desperately, so we called him up and discussed our options. The one thing that stuck out to me was I told him we were happy with the information he gave and that we were going to put in an offer, he said he was happy that we found our home and he would say a little prayer for us. The next day our offer was best by another buyer. Our hopes were down and we continued to search. But low and behold.... the previous buyers backed out and the seller came back to us!! (If it's meant to be it will be) It was smooth sailing from there honestly. All my questions were answered honestly and quickly. He got us a GREAT rate and I feel confident with who our mortgage is with. From beginning to end, he was AWESOME. always on top of it and even cracked some laughs during our process. Seriously, don't go anywhere else. This guy gets it done!! Oh... and we closed a few days ahead of schedule! Oh... and.... this was all done during the 2020 pandemic!! ????
Courtney O'Toole

Just woke up in our new home and the first thing that comes to mind is, thank goodness for the team around us who made this happen. This was our first experience buying a home. The only other thing I can compare it to was pregnancy. You just don't know what to expect until you are smack dab in the middle of it. However, the fact that we had Justin Young by our side during this hectic process made everything better. Justin took his time everyday to reassure us that he was on top of things and he had time for any non-essential question, ( which I had a ton that I asked multiple times). He gave us peace of mind in a very uncertain time. Justin made us feel like our closing was as important to him as if it were his own. Although I can't recommend buying a home during a pandemic, if you do - Justin is your man. He managed to get us a ridiculously low interest rate, a perfect mortgage payment and small closing costs. I don't know how you did it, Justin but thank you from the bottom of our hearts!!
Emma Moseley

Justin did an exceptional job of guiding me through the process.
Craig Christmas

My realtor at REMI Realty connected me with Justin Young to assist my husband and I with obtaining a mortgage to purchase our first home. Because I had not purchased a home before, I was expecting the loan application and underwriting process to be a pain, but I was shocked at how easy it was. Justin helped us work quickly to get the application process started, gather all of the documents, and helped us choose which mortgage was best for us. He explained every step of the way and never seemed bothered when I would text him all the time with random questions - he even responded very quickly! I am so thankful to have had someone so easy to work with because we were able to get approved, get our loan, and get into our new house within a month. I will definitely recommend Justin to friends and family!
Cassandra Klusmeyer Brown

Justin Young was amazing! My mortgage experience has been better than I ever imagined. Originally my husband and I were going to rent and were looking at rental properties that were way overpriced. We were told a year ago that we would need to wait to get a new mortgage after my husband sold his home in another state. The original bank told us we'd have to wait a year or longer to every qualify for a mortgage. My realtor knew our situation and referred me to Justin. After looking at our documents and credit he was unsure why we were needed to wait! We got approved, we found a house and BAM closed! We have been in our house for almost a month and we love it! Now our money is going toward our own investment and we can take pride in it, instead of maintaining a rental. Justin has become an awesome friend and we are super thankful for everything he has done for us! I would recommend him EVERY.SINGLE.DAY.OF.THE.WEEK!!!!!!!!!!!
Alison M

My husband and I recently refinanced with Justin Young as our mortgage broker. The transaction process was entirely electronic and was easy and convenient. Justin was knowledgeable and responsive to queries. We appreciated the time, patience and professionalism he exhibited. We will definitely recommend him to family and friends for their mortgage needs.
Carlene Wynter

Justin was outstanding. He went above and beyond when it came to helping us get through the mortgage process. Answered all phone calls and emails very promptly. We would even call him afterhours and he would still answer the phone. Wish I could leave 10 stars. I HIGHLY recommend!
Wayne Griffis
Refi and Purchase Mortgage Loans in Florida
Welcome to the official site of Forever Home Loans. We are a full-service mortgage broker based in St. Augustine, FL. We specialize in Refi and Purchase Mortgage Loans in St. Augustine and Jacksonville. Whether you are buying a home or refinancing anywhere in Florida, we can help you realize your dream of homeownership or save you money when getting your new lower monthly payment. Our goal is to match you with the best mortgage based on your personal situation. Call now to get Preapproved for your FOREVER HOME!!!
In terms of Purchase Loan programs, we offer the following:
FHA | VA | USDA | Jumbo | Conventional
Refinancing? We can help you with that, too!
We offer a wide range of refinance options, designed to best meet the needs of local borrowers. If you're looking for cash out, or to just get a better rate and term, we can assist you. We offer the following Refinancing Programs:
FHA Streamline | FHA Cash Out | FHA 203k | VA Streamline | VA Cash Out | USDA Streamline | Conventional | Jumbo
Contact Forever Home Loans today to discuss your mortgage loan options, and find out which loan program will best suit your needs.
Get started with your Digital Mortgage
No hassle, no obligation
Get Started Now!